We have decided to move to Wisconsin!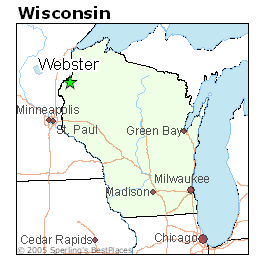 Dalin is accepting the job at Northwest Passage. It seems like a wonderful workplace and a great opportunity for our family to have a new experience in an outdoorsy area (lots of trees, lakes, rivers, and ponds which is a yay for me!) and also save a lot of money with fewer expenses and better pay!
The area we are in is very small, (I thought my hometown of Gilford, NH is small with 7,000 people!) but the town Dalin will be working in (Frederic, WI) has 1,000 people and the town we'll be living in (Webster, WI) has 641 people. Well, make that 645 now;)
I'm not too worried about it--I like small towns and I pretty much Amazon Prime everything anyway. I keep thinking it will be like those Hallmark Christmas movies that I'm obsessed with where the main character finds herself in a small town and thinks she'll hate it, then she absolutely falls in love with it. Except I'm more excited than nervous. Anyway, I know it will be good. I can't promise we'll become Green Bay fans though...we'll have to see;)
We are less than two hours from everything...but almost an hour away from any name-brand stores. So that will be weird, but I'm totally up for the challenge. I mean, they have a grocery store and a surprising amount of hardware stores and Dollar Generals so...maybe I'll find some new hobbies. ;)
I was a bit alarmed when I searched where the nearest TJ Maxx was though...
I'm assuming there was a misunderstanding on Google's part.
Thankfully I found one, and also a Target (which is even more important) about an hour away. We'll be making a day trip each week then;)
Random facts discovered during my hours of research of the area:
They have a children's secondhand clothing store there, so I'm assuming there must be some children! (One of my concerns for my kids)

They also have a store called "Rocks and Things"... That should be useful;)

The average HIGH in January is 29 degrees Fahrenheit. And in December and February the high is 33 (only a degree lower than my hometown of Gilford, NH). I guess I'll have to dig up my old New England roots because that is a COLD winter (compared with Provo's balmy 40 degrees, December through February)

Webster, WI is 22 hours, 22 minutes from Caldwell, Idaho and 21 hours, 45 minutes from Gilford, New Hampshire. We couldn't be more fairly in the middle of our two hometowns if we had planned it! (Actually, I just looked it up--if we lived in Grantsburg, WI, twenty minutes away, we'd be 22 hours 1 minute from Caldwell and 22 hours exactly to Gilford. How's that for precise?;)

We are also only a 22 hour, 43 minute drive to Orlando. That's do-able! (I'm really hung up by our proximity to Florida;)

We are an hour and a half from Lake Superior (basically the ocean for the midwest) and four hours from the Canadian border. We are also 7 and a half hours from Winnipeg where my dad served his mission for The Church of Jesus Christ of Latter-day Saints.

We are an hour and a half from Minneapolis/St. Paul. MSP will be the airport we use. The good news about that is we can fly to Idaho, Utah, New Hampshire/Boston, Arizona, California, and Florida for less than $150! It's a pretty central location:)

The housing is very cheap out there and there is a lot of land with access to lakes and ponds for sale. If we really like it there, that's what we'll be looking for!

Webster is in the center of 5 LDS wards/branches. 2 of them are 48 minutes away in Minnesota and 3 in Wisconsin are an hour away. I think it's hilarious how this random location in northern Wisconsin is turning out to be central to so many places (but not super close to any of them).

We are 1 hour 40 minutes from the St. Paul LDS temple and 1 hour 53 minutes from the Mall of America.

I've made approximately 892,743,918,741,908 Google searches about the area since we started applying.
We are really excited (we do have some nerves but probably just the normal ones for moving to a place we haven't been) and can't even wait to see our new home! Thank you so much for your prayers, friends! They have been felt and I have peace in my heart about this move.

We are ready for adventure!